Go therefore and make disciples of all nations
We at Calvary Murrieta honor our journey in missions thus far. We have been involved in world missions for the past 32 years. We honor and esteem all of our missionaries who have served, and are currently serving, on the field. We recognize their sacrifices and commitment over the years. We also have watched these relationships move from partnerships, to family. We will be adding to our mission's legacy a program which we are calling Pioneer Missions. In our effort to see sustainable national churches in regions across the globe, we have decided to adopt two unreached people groups. We know that the Lord desires worshipers from every tribe and nation and we desire to see them reached.
Joining forces with like-valued partners to establish reproducing, life-transforming communities of Christ-followers among forgotten peoples.
Focusing our efforts and resources for deep and lasting impact.
Longing to see God glorified, we willingly lay aside our safety, security, and self.
Pleading to the Lord of the harvest for more workers and worshipers.
Partnering with like-valued organizations and ministries to continue building the Kingdom of God.
Church-Wide Participation:
Mobilizing everyone at Calvary Murrieta to embrace their unique role in the Great Commission.
We see a vision so awe-inspiring where we witness God's fingerprints and not just our own efforts. We see the Hani and the Rohingya people groups being discipled, and in turn, discipling their neighbors. We see all of Calvary Murrieta being changed by anticipating these nations standing before the throne of God. We see this vision being passed along to our children's children if we are not able to fulfill it in our lifetime. We see our sons and daughters being sent to express both the Love and the Words of Christ. We see these unreached people groups reached.
Join us every month as we pray for our active missionaries.
4th Sunday of every month
6:30 pm - 7:30 pm
In the Agape Room
Take a short trip to Nepal!
Here's a short clip of Pastor Brian and Pastor Larry's recent trip to Nepal.
Select "Refugee Vocational Training" under Fund and give your amount.
The Free Burma Rangers (FBR) is a multi-ethnic humanitarian service movement working to bring help, hope and love to people in the conflict zones of Burma, Iraq, and Sudan. Working in conjunction with local ethnic pro-democracy groups, FBR trains, supplies, and later coordinates with what become highly mobile multipurpose relief teams. After training these teams provide critical emergency medical care, shelter, food, clothing and human rights documentation in their home regions.
In addition to relief and reporting, other results of the teams' actions are the development of leadership capacity, civil society and the strengthening of inter-ethnic unity. The teams are to avoid contact with the Burma Army or other attacking forces and operate under the protection of the ethnic resistance armies. However, they cannot run away if the people they are helping cannot escape the attacks. Men and women of many ethnic groups and religions are part of FBR.
Find out more at
freeburmarangers.org
Missio Nexus Interview - April 7, 2021
How Do I Get My Pastor Engaged In Missions? Missio Nexus interviews our Senior Pastor, Brian Bell and our Missions Pastor, Larry Hansen to get their insights as Missio Nexus asks the question, "How do we crack the code of pastoral engagement in missions?"
Meet Sophie Danielson from Unbound Books
FUNDRAISING UPDATE!
Since Sophie's visit here last Sunday, Books Unbound was able to meet their goal of raising $2,500 for their Coloring Book Project. They met this goal in less than 8 hours!
This goal provided 500 Rohingya Coloring Books, Boxes of Color Pencils and Pencil Sharpeners!

Sophie and Unbound Books thanks Calvary Murrieta for their generosity and for the incredible opportunity of sharing with us what God is doing in their organization.
Sophie is the founder of Books Unbound and has been working with marginalized populations and religious minorities for the past 7 years around Southeast Asia and the US. After specializing in the Rohingya community and researching the Rohingya diaspora in six countries, her work has now expanded to other marginalized communities around the world. She works closely with local and international NGOs to develop innovative and culturally sensitive education tools to provide greater representation for the world's most vulnerable populations.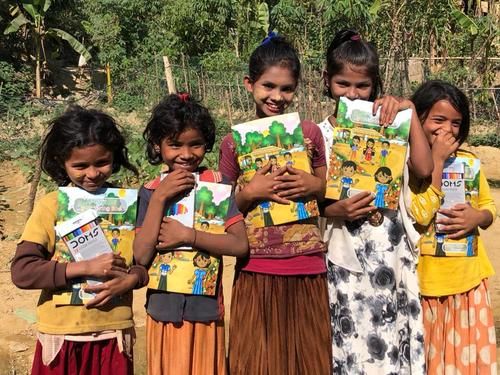 Photo Credit: Nihab Rahman and Hailey Sadler
Books Unbound is a non-profit organization that develops contextualized learning materials for marginalized communities. Working directly with local educators and NGOs, Books Unbound's mission is to provide education through "cartoonization", ultimately creating representation for the world's most vulnerable and displaced populations.
Books Unbound was created to address the needs of the Rohingya communities in Bangladesh, Malaysia, and the United States. With projects ranging from picture dictionaries to children's animations, they have since expanded to other marginalized communities around the world.
Visit:
www.books-unbound.org
Encourage or support our active missionaries
Contact our Missions Pastor Larry Hansen.