For the word of God is alive and active. Sharper than any double-edged sword, it penetrates even to dividing soul and spirit, joints and marrow; it judges the thoughts and attitudes of the heart.
At Calvary Murrieta we are always learning and growing. We offer classes throughout the year to better understand the Bible, life in the church, and the world around us. Foundations is an introduction to the Christian faith where students work to address a question they have about the Bible as well as form a plan to share the gospel with someone in their life. Unfolding Gospel is an overview of the Bible's storyline where we learn to study with Jesus at the center and frame our lives within His story. Both these classes run twice per year.
Foundations Class: Fall Session
Beginning September 12, 2021
Every Sunday
10:00 am - 11:15am
In Room 113
Foundations is a recurring class that introduces and organizes biblical teaching to give you the confidence to understand and share the core truths of the Bible. This session will begin on September 12-November 21. Enroll today to join!
For more information contact Pastor Andrew Lacasse at
[email protected]
Neighbors In Need Class: Fall Session
Beginning October 7 - November 4, 2021Every Thursday
6:30 pm - 8:00 pm
In Room 113Enroll today!
Knowing how to help those in need is difficult. We start by learning a biblical, cultural, psychological, and practical framework to see our own needs and how we can best help others. You'll also learn about our benevolence ministry and opportunities for you to be involved in the lives of the hurting. The class will offer opportunities to serve within the church programs but also may be taken for your own knowledge.
For more information, contact Pastor Andrew Lacasse at
[email protected]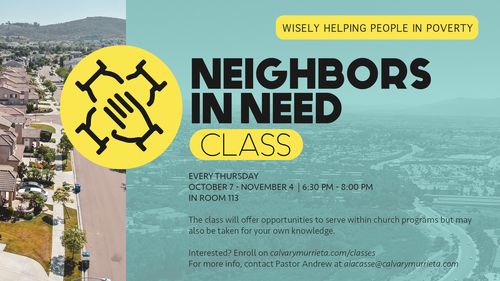 Unfolding Gospel Bible Survey 2021
This class has now concluded! Please check back to find out when our next session will begin.
Unfolding Gospel is a journey through the events of the Bible with Jesus at the center. You will learn to read the Bible more fully and find your place in God's great story. Sessions are during second service on Sundays for nine weeks. There is no charge. The class will be in-person only.
Contact Andrew Lacasse with any questions at
[email protected]
. Before the first session, please watch the course Introduction video in
Class Materials
.
We'd love to connect with you. Fill out the form below to get started.