Calvary Kids Christmas Play Auditions
Thursday, September 30, 2021
6:30 pm
Room 133
Calvary Kids is excited to announce we are going to put on a Christmas play on December 11th! We are looking for 1st-5th grade students to come audition! We need 12 students for speaking roles and 15 for a choir.
For more information contact Jasmine at
[email protected]
678 Middle School Movie Night
Friday, October 1, 2021
7:00 pm
Temeku Cinemas in TemeculaCost: $5
You are invited to the Junior High Movie Night! Come and hang out on Friday, October 1st at 7 p.m. as we take over an entire theater at Temeku Cinemas to watch The LEGO Movie (Rated PG). Invite your friends, grab some snacks, and prepare for a good time!
For more info, contact Shane at
[email protected]
Informational MeetingSunday, October 3, 20211:15 pmCourtyard Room 111March 2-15, 2022Registration and deposit due by November 2, 2021
Pastor Brian and Kelly have visited Israel every other year with a group from the church and it is an amazing trip to participate in. Cost is $4820 per person for double occupancy, $1,710 additional for single lodging. Reservations and deposits should be made through Coral Travel and Tours. Visit
www.coraltours.org
You can also mail your deposit and reservation form to: Coral Travel & Tours 215 Millburn Ave. Millburn, NJ 07041
Phone:
866-267-2511
Fax:
973-376-9598
Sunday, October 10, 2021
2:30 pm
Terry Home in Murrieta

We are having our Fall Baptism! You must attend one of the Baptism classes at Calvary Murrieta before the event. The Baptism will be held at the Terry Home in Murrieta (39885 Banyan Street Murrieta, CA 92563).

Baptism Classes:
Sunday, October 3 at 11:15 am in the Mercy Room
Wednesday, October 6 at 8:00 pm in the Mercy Room
(Attendance of one of the classes is required)
A21 Walk For Freedom: In Temecula
Saturday, October 16, 2021
7:00 am -11:00 am
Vail Headquarters in Temecula

A21 will be hosting their annual Walk For Freedom, a day of global awareness and local action in the fight against human trafficking. This silent awareness walk will be happening all over the world on Saturday, October 16. We will be joining the Temecula walk that will be meeting at Vail Headquarters.

Click the link below to register or for more info for the Temecula walk. Watch the promo video!
Christmas Boutique Craft Vendors
Saturday, December 4, 2021
11:00 am (Boutique following the Christmas Celebration)
Calvary Murrieta

We are now accepting Craft Vendor applications for this year's Women's Christmas Craft Boutique. Apply online or in the church office, Monday-Thursday, 8:00 am - 4:30pm.

For more information, contact Caroline Turnure at 951-326-5251.
Neighbors In Need Class: Fall Session
Beginning October 7 - November 4, 2021Every Thursday
6:30 pm - 8:00 pm
In Room 113Enroll today!
Knowing how to help those in need is difficult. We start by learning a biblical, cultural, psychological, and practical framework to see our own needs and how we can best help others. You'll also learn about our benevolence ministry and opportunities for you to be involved in the lives of the hurting. The class will offer opportunities to serve within the church programs but also may be taken for your own knowledge.
For more information, contact Pastor Andrew Lacasse at
[email protected]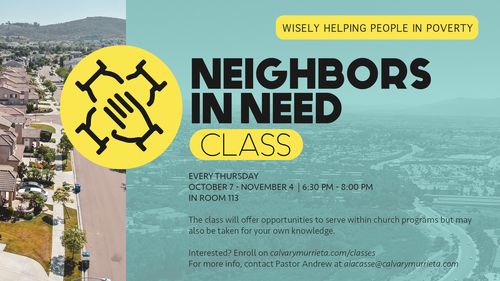 Saturday, October 9, 20217:30 amCalvary Murrieta Gym
Join us for a morning of good food, worship, an encouraging message from Matt Laster, (Missionary in Bulgaria), and fellowship! There is a suggested donation of $10. Invite your friends! We will be meeting in the Gym.
For more information, contact Greg Fischer at
[email protected]

rrieta.com
Laster Family Prayer Meeting
Sunday, October 10, 20214:30 pm - 6:00 pm
In the Courtyard
Join us for a prayer meeting for the Laster family (Matt and Jessica) who currently serve as missionaries in Bulgaria. Since they will be on furlough in Murrieta, we will have the opportunity to minister to them in person and receive personal updates about their ministry.
For more information, contact Zach at
[email protected]
Women's Ministry Planning Meeting
Thursday, October 14, 20217:00 pm-8:30 pm
Agape Room
All ladies are welcome as we continue to plan our Ladies Christmas Celebration and more!
For more information, contact Kelly at
[email protected]
Every 3rd Sunday of the Month
Sunday, October 17, 2021
3:00 pm - 5:00 pm
Agape Room
There are many injustices in the world today and here at Calvary Murrieta we desire to "speak up for those who can't speak for themselves and ensure justice for those being crushed. There are many avenues to do this, so we seek ways to help the victims, as well as find ways to help prevent them from becoming one. Children at Risk meetings is one of those avenues.
For more information, contact Kelly Bell at
[email protected]
Tuesday, October 19, 20217:00 pm
In the Sanctuary
All ladies are welcome to join us for our next REAL. All books have one thing in common...WORDS! Words can be used for both good and bad. Join us as we worship together and take a look at what God's Word says about the words we use (Psalm 19:14). We also will be having a used book exchange, so please bring your favorite "USED" book to pass on to someone. Come connect with friends, both old and new! See you then!
For more information, contact Kelly at
[email protected]
Sunday, October 31, 20215:30 pm-8:30 pm
Calvary Murrieta
Our Harvest Festival is back! Join us for a free, family-fun event filled with candy, games, and food available for purchase from a variety of Food Trucks.
Event Needs: Volunteers and Donations
Here are a few ways that you can help participate in our Harvest Festival. We are looking for those who would like to volunteer their time during the event. We are also looking for donations of candy or financial contributions. We also are in need of baked goods the day of. For more info please see Tony, or email
[email protected]
. If you can help with any of these we would be extremely grateful!