Sunday, January 24, 2021
Collecting donations at Calvary Murrieta on Sunday
Look for the collection truck that will be parked out front.

We are rallying together again to help out our local food bank! The Murrieta Community Food Bank has a specific need for canned vegetables and top ramen. If you would like to help out, please bring your donations on this Sunday or you may drop them off at the Church Office during the week, Monday-Thursday from 8:00 am-4:30 pm.
Biblical Counselor Training Course
Training CourseMonday, January 25 at 6:30 pm orTuesday, January 26 at 9:00 amIn the Agape Room
Have you sensed God leading you to serve in Church Counseling? Do others come to you for advice? Are there times you wished you knew a little more about how to help someone through life's difficult challenges? Do you have life experience that you think you might be able to help others with that are facing similar challenges?
This is a mandatory training for those interested serving in the counseling ministry, and is also recommended for those interested in personal growth.
For more information contact, Pastor Dan at
[email protected]
Monday, January 25, 2021
7:00 pm
Outside in the courtyard

Moms On A Mission will resume their meetings! Unfortunately, there is no child care available at this time.

M.O.M.S welcomes moms-to-be- and those raising young children. This is an opportunity to build your parenting foundation on God's truths, be encouraged, and engage in fellowship with other moms.

We would love for you to join us! Please sign up on our sign-ups page below.
Sunday, January 31, 2021
9:00 am and 11:00 am
In the Sanctuary

Our 10th year of Justice Matters Sunday is themed, "Let Justice Roll" from Amos 5:24. Dr. Sandra Morgan, the White House's Advisory Council to end Human Trafficking will be our guest speaker for both services. Come learn on how you can be a part of the fight against human trafficking in our communities. Invite your friends, family, and neighbors!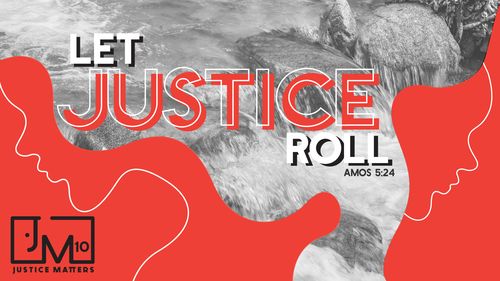 Monday Night Live (Women's Study)
Beginning February 1, 2021
Mondays at 6:45 pm
In the Sanctuary
Join us for a 10 week study using the book,
" With" by Skye
Jethani
as our workbook. There are questions in the back for each chapter, and additional questions will be posted online as well. You can either order your own book or pick up one in the front office while supplies lasts.
We will meet in the sanctuary, (socially distanced and masks preferred when entering), for a short devotion about the specific topic. We will then break into small groups (distanced) around the campus. Please come to the group with your chapter read and your questions completed, which will be used for the discussion time.
No registration required.
If you have any questions, please contact Kelly at
[email protected]
Every Sunday
February 7-28, 2021
1:00 pm - 2:30 pm
In the gym or on Zoom
Knowing how to help those in need is difficult. We start by learning a biblical, cultural, psychological, and practical framework to see our own needs and how we can best help others. You'll also learn about our benevolence ministry and opportunities for you to be involved in the lives of the hurting.
Interested? Please fill out the Enroll Form by clicking below. For more information, contact Pastor Andrew Lacasse at
[email protected]
Community Groups - Spring Session
Beginning the week of February 8Several locations and nights available to attend.
Community Groups will be starting again in a few weeks. They are a place where men and women, young and not so young, hang out and discuss God's word. The theme will be "One Another."
Register for a group TODAY!
If you have any questions or want more information about Community Groups, contact Pastor Andrew Paulsen at
[email protected]
Divorce Care: 13 Week Program
Every Monday beginning February 8, 2021
6:30 pm
In the Agape Room
This is a 13-week support group/workshop designed to help men and women cope with the difficulties and struggles brought on by divorce or marriage separation. A variety of specific topics are addressed through a weekly video series and group discussions. We offer this workshop 2 times each year, and you are welcome to join us at any time. The cost is $30, which includes the cost of your workbook.
For more information, email Lorrain at
[email protected]
"Loss of A Spouse"Sunday, February 14, 2021
2:00 pm-4:00 pm
In the Agape Room"From Mourning to Joy" - 13 week programEvery Sunday beginning February 21 - May 30, 20212:00 pm-4:00 pmIn the Agape Room
Grief Share is a friendly, caring group of people who will walk alongside you through one of life's most difficult experiences. You don't have to go through the grieving process alone. The "Loss of a Spouse" class has a $5.00 cost for the workbook. The "From "Mourning to Joy" program has a $15.00 cost for the workbook.
For more information, email Pastor Des at
[email protected]