Tuesday, February 1, 2022
7:00pm
Sanctuary
Join us as we take a look at what REAL love looks like. Someday, our Prince Will Come, and we will be ready! Come enjoy a night of beautiful worship, sweet fellowship, goodies, and an encouraging message from the Word. Looking forward to seeing you there.
For more information, contact Kelly at
[email protected]
Sunday, February 6, 20228:00am, 10:00am, and 12:00pmCalvary Murrieta
We are so excited for our eleventh annual Justice Matters Sunday on February 6th during all morning services! Our title this year is "To Do Justly" from Micah 6:8. Our desire is to bring awareness and education about Human Trafficking, encourage prevention steps, and empower people to take action. We will also be highlighting various organizations and ministries that we support and partner with to provide avenues for our church body to get involved. This year we'll be offering various workshops to provide additional education into some of the specific topics.
We are privileged and honored to have both Former Ambassador John Cotton Richmond and Survivor/Advocate Bella Hounkey as our keynote speakers. (You can read their bio's below.) We hope you will come and spend the day with us as we learn together how we can "speak up for those who can't speak for themselves" (Proverbs 31:8-9). Come to one service, attend workshops at another, chat with some of the organizations, and have some lunch. Isaiah 61:8 says, "For I, the Lord, love Justice." Because He loves justice, so should we! How about Inviting a family member or friend to this awesome day? Hope to see you there!
For more information, contact Kelly at
[email protected]
Murrieta Men's Spring Series 2022
Beginning February 8, 2022 - May 17, 2022
Every Tuesday at 7:00pm in the Sanctuary
Every other Tuesday at 7:00pm in Small GroupsREGISTER TODAY!
Join us for our Spring Video Series by David Dusek from Rough Cut Men Ministries. The Bible says that we should "Pity the man who falls and has no one to help him up". Men need to be back-to-back with another man in order to be victorious in the battle for men's souls. We will meet every Tuesday evening at 7:00pm in the Sanctuary for the video series and every other Tuesday in our small groups for further discussion and prayer. This series is free of cost.
For more information, contact Greg Fischer at
[email protected]
Women's Retreat Planning Meeting
Thursday, February 10, 2022
7:00pmAgape Room
All ladies are welcome to come help plan our upcoming Women's Retreat in March! Our retreat dates are March 25-27.
For more information, contact Kelly at
[email protected]
Fostering A Hope Community Meeting
Every 3rd Wednesday of the Month
Wednesday, February 16, 2022
7:00 pm
Agape Room
Join us as we gather together and allow time to learn, grow, and support one another in the wonderful and life-changing commitment to foster, adopt, or be a part of our Safe Families for Children Program.
Childcare will be available through our mid-week Calvary Kids Program.
For more information, contact Kelly at
[email protected]
Calvary Kids 3rd-5th Grade Winter Camp
February 18, 2022 - February 20, 2022
Friday-Sunday
Idyllwild Pines Camp
Cost: $185/studentREGISTER TODAY!
We will be having our 3rd-5th Grade Winter Camp at Idyllwild Pines Camp. Cost will be $185 per student. The theme for this year is, "Emoji Life: Learning to Navigate Our EMOJItions with Christ!".
For more information, contact Jasmine Boucher at
[email protected]
Every 3rd Sunday of the MonthSunday, February 20, 20223:00pm-5:00pm
Agape Room
There are many injustices in the world today and here at Calvary Murrieta we desire to "speak up for those who can't speak for themselves and ensure justice for those being crushed. There are many avenues to do this, so we seek ways to help the victims, as well as find ways to help prevent them from becoming one. Children at Risk meetings is one of those avenues.
For more information, contact Kelly Bell at
[email protected]
Beginning the week of February 20, 2022Meeting at various times and locations during the week
You are invited to "The Great Banquet" to come, taste and see what it's like to listen and learn together. Community Groups will meet weekly for 12 weeks at different times and locations to fit a variety of schedules. All adults in all stages of life are welcome!
For more information, contact Pastor Andrew Paulsen at
[email protected]
Grief Share: Spring Session
February 20, 2022 - June 5, 2022
Sundays
2:00pm - 4:00pm
Agape Room"Loss of A Spouse"
Sunday, February 20, 2022
2:00pm - 4:00pmAgape Room
Grief Share is a friendly, caring group of people who will walk alongside you through one of life's most difficult experiences. You don't have to go through the grieving process alone. The "From Mourning to Joy" program has a $20.00 cost for the workbook. The first session is "Loss of A Spouse" with a cost of $5.00 for the workbook which can be attended once. We will be meeting every Sunday for 13 weeks in the Agape Room.
For more information, contact Pastor Des Starr at
[email protected]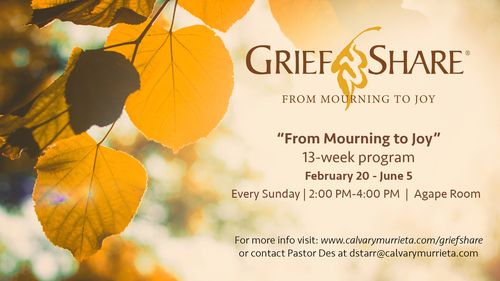 Divorce Care: Spring Session
Beginning February 21, 2022Mondays6:30pmAgape Room
This is a 13-week support group/workshop designed to help men and women cope with the difficulties and struggles brought on by divorce or marriage separation. A variety of specific topics are addressed through a weekly video series and group discussions. We offer this workshop 2 times each year, and you are welcome to join us at any time. The cost is $30, which includes the cost of your workbook.
Unfortunately there is no child care available this session along with DC4K. Register below.
For more information, contact Lorraine at
[email protected]
Starting Point Welcome Class
Sunday, May 15, 2022
10:00amCourtyard Room 111
If you are new to our church, or have been here for a while and haven't had a chance to get connected, we would love to have you come to our "Starting Point" class. During this time we will take a look at our churches Mission, Vision, Values and Motto as well as share with you about our Ministries and Church Leadership Team. We will also help you get connected to the ministries that are specific to your areas of interest, and help you to find the right fit in getting involved with our volunteer opportunities. This will also be a great time to meet others at our church, and to answer any questions you might have.
For more information, contact Pastor Tony at
[email protected]